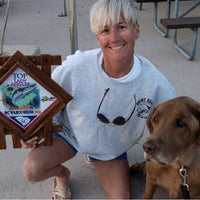 Captain Michelle
Captain Michelle is the owner of Short Rigger Tackle. All lures are handcrafted in South Carolina with all USA made products.
Pro-staff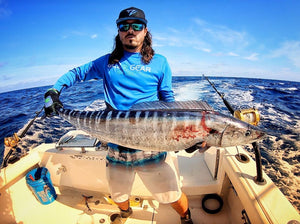 Captain Mike "Slick" Dupree
Capt. Slick grew up hunting and fishing all over the state of NC. From bass tournaments to inshore redfish tournaments as well as King Mackerel tournaments. Slick eventually made his way offshore chasing Pelagics and in most recent years, has honed in on slow trolling for Wahoo. Well known for Wahoo fishing, Slick runs "X~Rayted Fishing Team" and fishes out of Cape Pointe Marina located on Harkers Island, NC. He is also the Captain of Lone Wolf Sportfishing located in Town Creek Marina, in Beaufort NC.

Insta: @slicksnsticks
Insta: @x_rayted_fishing_team
FB: Mike "Slick" Dupree
FB: X Rayted Fishing Team.
Jr. Angler Matthew Fletcher
Matthew began fishing at 2 years old, unknown to him he already had a Lifetime Sportsman's License for Florida since he was 2 months old!  He started out fishing for pinfish and now that he is 7 years old he still loves to go catch pinfish.  At 4 years old Matthew went on a redfish trip and we had just pulled back to an idle in the canal, I was starting to get our bait together and Matthew says, "Dad im on"  he had baited his hook while I was slowing down and cast and hooked a nice redfish all on his own…it was impressive.  At age 5 Matthew began tournament kingfishing with Hooked Up Fishing Team. In 2018, he won first place Junior Angler as well as 1st Place SKA Jr Angler for King Mackerel in the Flora-Bama Rodeo, Pensacola Bud Light, and was the top SKA Jr Anger for the Alabama Deep Sea Rodeo.  He capped off 2018 at nationals in Morehead City by taking home SKA Div 7 1st place Jr Angler. In 2019, Matthew took first place Jr Angler in the Pensacola Bud Light and the Rag Tag tourney which captured the 2019 SKA Div 7 Top Jr Angler, SO at 6 yrs old he was back to back 1st place Jr Angler for SKA Division 7.  Outside of SKA competition Matthew also enjoys fishing local rodeos such as the Gulf Breeze Optimist Rodeo and the Gulf Breeze Sertoma Rodeo.  No matter if its the fresh water by our house or the oil rigs in the Gulf of Mexico, he always has a rod in his hand and fishing on mind
Insta: @junioranglermatthew
Insta: @hookedupfishingteam
Customer Reviews
They have the best tackle and treat everyone like family. Thanks for taking so much pride into your work.

Rickey Ringer
Caught three of these big boys on Short Rigger Tackle. 1st class people and they get your product to ya fast!!

Keith Wood
Using short rigger tackle down in Cape Canaveral Florida and killing it!

Julie Bowser